The paintings of one of the most original, ironic, and complex postmodern Italian artists have arrived at Visionarea Art Space in Rome. Two unprecedented cycles of works that seem to depict the coexistence of cultures, beliefs, religions, myths, and icons of consumption, of our time and of the history of art. Open from April 18th  to May 18th, Don't Worry Don't Worry Don't Worry Be Happy Be Happy, Maurizio Cannavacciuolo's solo exhibition, curated by Marco Tonelli, presents eleven strictly black and white paintings, created between 2021 and 2022, on eclectic, exotic, polysymbolic themes, rich in references to the cultures and peoples of Eastern and Western contemporary and ancient history, to languages, and to both sacred and profane iconographies.




The exhibition is organized with the support of the Fondazione Cultura e Arte, an instrumental body of the Fondazione Terzo Pilastro - Internazionale, chaired by Prof. Emmanuele F. M. Emanuele.




In these works, the artist's personal global melting pot becomes a container for symbols, stories, geometric Arabian-like and optical patterns that extend an invitation to be read, interpreted, and discovered. As if the observer were to mentally join the figures together in their hidden interlaces and in their multiple relationships, in an endless hermeneutic kaleidoscope.

Maurizio Cannavacciuolo has, in fact, always focused on his painting as a quest that analyzes symbols and images of the present, pop icons and cultured quotations drowned in a mesh of decorations and superimpositions of images, to the point of nullifying any narrative intent, with an essentially ironic approach.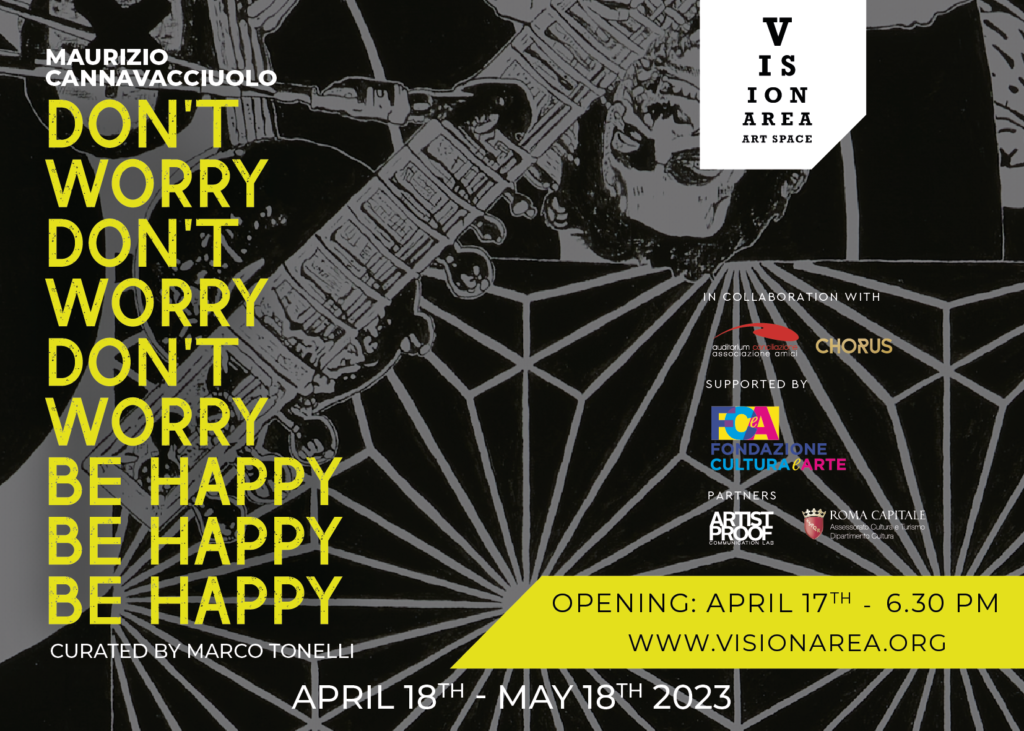 The series of six large paintings entitled Metempsychosis, Circle Song 1-6 bring together in Cannavacciuolo's classic style the highs and lows, the trivial and cultured, history, advertising and the sacred, intertwining images ranging from tattoos of the Mara Salvatrucha Salvadoran gang to Hindu deities such as Ganesh and Khali, from bats and technical drawings of cars to guitarists like Jimi Hendrix, Robert Fripp or Andrés Segovia, from symbols of the Yoruba culture, Candomblè, and Santeria to magical or therapeutic potions like Iboga dust, from benign demons such as Saci-Perê to Hermes Trismegistus. And then an infinite number of decorative motifs drawn from various cultures: from Japanese and Soviet fabrics to ornamental Islamic garland lattices and musical staves.




In a cycle of five smaller works on display, all from 2022 and marked VS (as in "versus" or comparison), Cannavacciuolo reverts back to a series of stories and dialogues of paintings created in the 1990s in Cuba, to which he has now given titles that seem like incomprehensible riddles and tongue-twisters in various languages: from Spanish with Hombre de negocio VS Chulito Lindo to Swedish with Kakelmannen VS De tre aständiga männen, and also English with Gimme Five VS The Partially Invisible Breeze.




Prof. Emmanuele F. M. Emanuele, President of the Fondazione Terzo Pilastro - Internazionale, commented: "Maurizio Cannavacciuolo's iconographic research is imbued with that certain humor that is typical of the theater of the absurd and is characterized by a figuration that lingers between comic books, advertisements of the past, and a vast substrate of sacred and profane symbols. It is an ironic view of art that – supported by a pictorial style imbued with Mediterranean traditions but also with Middle Eastern influences – however reaches the roots of our culture (and an encounter with other cultures), inducing us to reflect. Cannavacciuolo himself defines his works as machines à penser, since his stated purpose is to persuade the viewer to slow down perception and enjoy the narrative, examining every single detail of the work, without the conditioning of predetermined concepts. All this, supported by an accurate pictorial style and by the use of a classical technique that is oil on canvas."
Exhibition details:
Artist:      Maurizio Cannavacciuolo
Title:       Don't Worry Don't Worry Don't Worry Be Happy Be Happy Be Happy
Curator:  Marco Tonelli
Dates:    April 18th to May 18th, 2023
Inauguration: 17 April 17th, 6:30 pm
Venue: VISIONAREA Art Space  - Auditorium della Conciliazione 
Tickets:  Free admission
Mail: info@visionarea.org
Web: www.visionarea.org